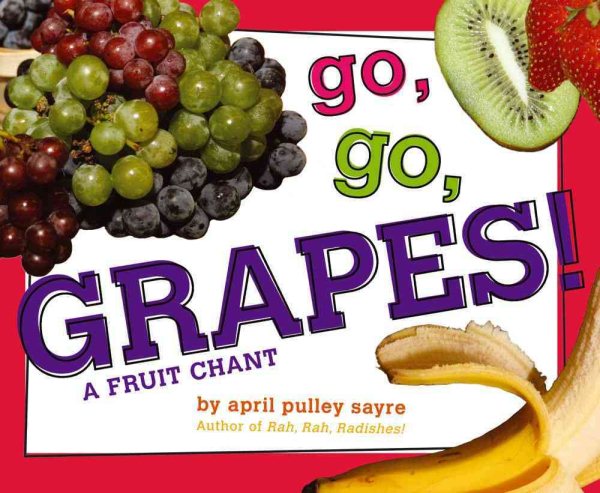 7-9-14: This went really well. I had a very attentive core group of about 10 kids and a lot more on the periphery. They really, really liked popping the bubble wrap of course! [I changed Rah Rah Radishes for Go Go Grapes]
1-30-13: I was on vacation, so Linda ran this storytime. Unfortunately, we were in the middle of a big winter storm and only 3 people came. That means I can reuse this one again sometime soon!
2-1-12: Despite my cold, this was a very popular storytime! I skipped This is the way we plant a garden, b/c my voice was giving out, but 5 fat peas was, as always, a hit. I also discovered a great way to use Rah Rah Radishes and emphasize vocabulary - have the kids yell the names after I say them! A couple babies got a little upset at the loud noises, but their moms just popped out to the children's area with them, another reason I love the set up of our storyroom/children's area.
Dancing time and name tags: "Fruit Salad Salsa" by Laurie Berkner from Victor Vito
Introduction, welcome, and announcements: Lego Club and Lego Movie
Opening name song: The more we get together
Long story: On Meadowview Street by Henry Cole
Movement:
Five Fat Peas
Nonfiction: Planting the wild garden by Kathryn Galbraith
Movement:
Jumping Beans
(I had a stash of bubble wrap to jump on which made the beans really POP!)
Early Literacy Aside: Nonfiction books with the names of things are great for building vocabulary. Let's see how many fruits you know! Get ready to yell them out!
Short story: Go Go Grapes by April Pulley Sayre
Short story: Do you know which ones will grow by Susan Shea
Closing song: Sunny Day
Process art: Bleeding art tissue paper flowers
Prep: Leftover giant cardboard flowers, bleeding art tissue paper, paint brushes, water
Kids paint the flowers
Take Home Insert
Thank you for attending today's Preschool Interactive!
Our next session is July 16 and we will be having fun with GUESSING GAMES. Bring friends and siblings: the suggested age for Preschool Interactive is 3 and up, but all ages are welcome to attend and participate as they are able.
Today we used the five early literacy practices; talking, singing, reading, playing and writing.
We TALKED about how plants grow
We practiced WRITING by painting water
We SANG with motions to reinforce words
We PLAYED with bubble wrap
We READ
On Meadowview Street by Henry Cole
Planting the wild garden by Kathryn Galbraith
Go Go Grapes by April Pulley Sayre
Do you know which ones will grow by Susan Shea
You can keep practicing these skills at home. Try practicing your READING and TALKING skills by choosing some fun nonfiction books and talking about the words you find! Studies have shown that reading books to your child and talking to them will significantly increase their vocabulary and literacy skills.
Our take home craft is: Seed bags
You will need: Tape, a sunny window
Tape your bag to the window, add water, and watch your seeds grow!
For more library events, new books, and more, check out our website at www.elkhorn.lib.wi.us, join us on Facebook, or talk to a librarian. Please let me know if you have suggestions or questions!
Jennifer Wharton, Youth Services Librarian
jwharton@elkhorn.lib.wi.us, 262-723-2678 ext. 14